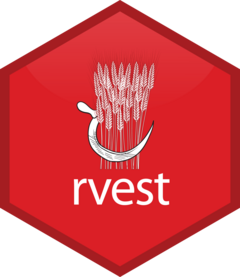 Changelog
Source:
NEWS.md
rvest 1.0.2
CRAN release: 2021-10-16
rvest 1.0.1
CRAN release: 2021-07-26
html_table() correctly handles tables with cells that contain blank values for rowspan and/or colspan, so that e.g. <td rowspan=""> is parsed as <td rowspan=1> (@epiben, #323).

Fix broken example
rvest 1.0.0
CRAN release: 2021-03-09
API changes
Since this is the 1.0.0 release, I included a large number of API changes to make rvest more compatible with current tidyverse conventions. Older functions have been deprecated, so existing code will continue to work (albeit with a few new warnings).
rvest now imports xml2 rather than depending on it. This is cleaner because it avoids attaching all the xml2 functions that you're less likely to use. To reduce the change of breakages, rvest re-exports xml2 functions read_html() and url_absolute(), but your code may now need an explicit library(xml2).

html_form() now returns an object with class rvest_form (instead of form). Fields within a form now have class rvest_field, instead of a variety of classes that were lacking the rvest_ prefix. All functions for working with forms have a common html_form_ prefix: set_values() became html_form_set(). submit_form() was renamed to session_submit() because it returns a session.

html_node() and html_nodes() have been superseded in favor of html_element() and html_elements() since they (almost) always return elements, not nodes (#298).

html_session() is now session() and returns an object of class rvest_session (instead of session). All functions that work with session objects now have a common session_ prefix.

Long deprecated html(), html_tag(), xml() functions have been removed.

minimal_html() (which doesn't appear to be used by any other package) has had its arguments flipped to make it more intuitive.

guess_encoding() has been renamed to html_encoding_guess() to avoid a clash with stringr::guess_encoding() (#209). repair_encoding() has been deprecated because it doesn't appear to work.

pluck() is no longer exported to avoid a clash with purrr::pluck(); if you need it use purrr::map_chr() and friends instead (#209).

xml_tag(), xml_node(), and xml_nodes() have been formally deprecated in favor of their html_ equivalents.
Minor improvements and bug fixes
rvest 0.3.4
CRAN release: 2019-05-15
Remove unneeded read_xml.response() method (#242).
rvest 0.3.3
CRAN release: 2019-04-11
rvest 0.3.2
CRAN release: 2016-06-17
Fixes to follow_link() and back() to correctly manage session history.

If you're using xml2 1.0.0, html_node() will now return a "missing node".

Parse rowspans and colspans effectively by filling using repetition from left to right (for colspan) and top to bottom (rowspan) (#111)

Updated a few examples and demos where the website structure has changed.

Made compatible with both xml2 0.1.2 and 1.0.0.
rvest 0.3.1
CRAN release: 2015-11-11
Fix invalid link for SSA example.

Parse <options> that don't have value attribute (#85).

Remove all remaining uses of html() in favor of read_html() (@jimhester, #113).
rvest 0.3.0
CRAN release: 2015-09-23
rvest 0.2.0
CRAN release: 2015-01-01
New features
html() and xml() pass ... on to httr::GET() so you can more finely control the request (#48).

Add xml support: parse with xml(), then work with using xml_node(), xml_attr(), xml_attrs(), xml_text() and xml_tag() (#24).

xml_structure(): new function that displays the structure (i.e. tag and attribute names) of a xml/html object (#10).